Welcome -
Furthering economic development cooperation
17.02.2016
More than 100 partners and members attended the New Year reception hosted by the EMA. In the vibrant city of Hamburg, high-ranking officials from business and politics, science and culture as well as representatives of Arab diplomatic missions were at the Hotel Grand Elysée.
16.10.2015
3rd Maghreb Forum
For the third time in a row, the EMA continued its commitment to economic cooperation as well as its ability to mobilize key players of the region. The focus of this year's forum was the agribusiness: the market of infinite possibilities.
03.09.2015
The executive board of the EMA was expanded by 6 interesting and commendable personalities. Henceforth, the future of the EMA will be directed by 20 distinguished executive board members.
04.06.2015
Innovation and cooperation were the characterizing theme of the 3rd German-Arab Water Forum in Jordan organized by the EMA. In light of the refugee situation in the EMA-Region, sustainable water management is a topic of extraordinary significance. The numerous high-ranking guests, experts and decision-makers presented and discussed international projects for the improvement of the water infrastructure in Arab countries.
24.11.2014
EMA held a networking event to welcome the participants of the German-Arab Multiplier Exchange in the esteemed presence of Hamburg's Second Mayor, Senator Dr. Dorothee Stapelfeldt, and diplomatic representatives of the Kingdom of Morocco and the Republic of Tunisia, selected guests, and alumnae.
18.11.2014
First Arab-German Forum Diplomatique
In the framework of strengthening the Arab-German relations and in light of what the Arab region is witnessing at both the political and economic levels, EMA, in cooperation with the Chamber of Commerce and Industry in Berlin, held the first "Arab-German Forum Diplomatique" with an active participation of about 200 guests, among them high-ranking representatives of the Arab embassies, business and politics.
15.09.2014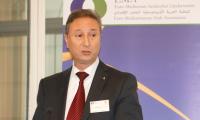 During the two-day Business Forum Algeria the EMA welcomed more than 150 Algerian entrepreneurs and decisionmakers to Hamburg. Together with their German counterparts the delegates debated about current topics, such as renewable energies, infrastructure and logistics, as well as the stimulation of the economy and employment. (click 'Read more' for the French report)